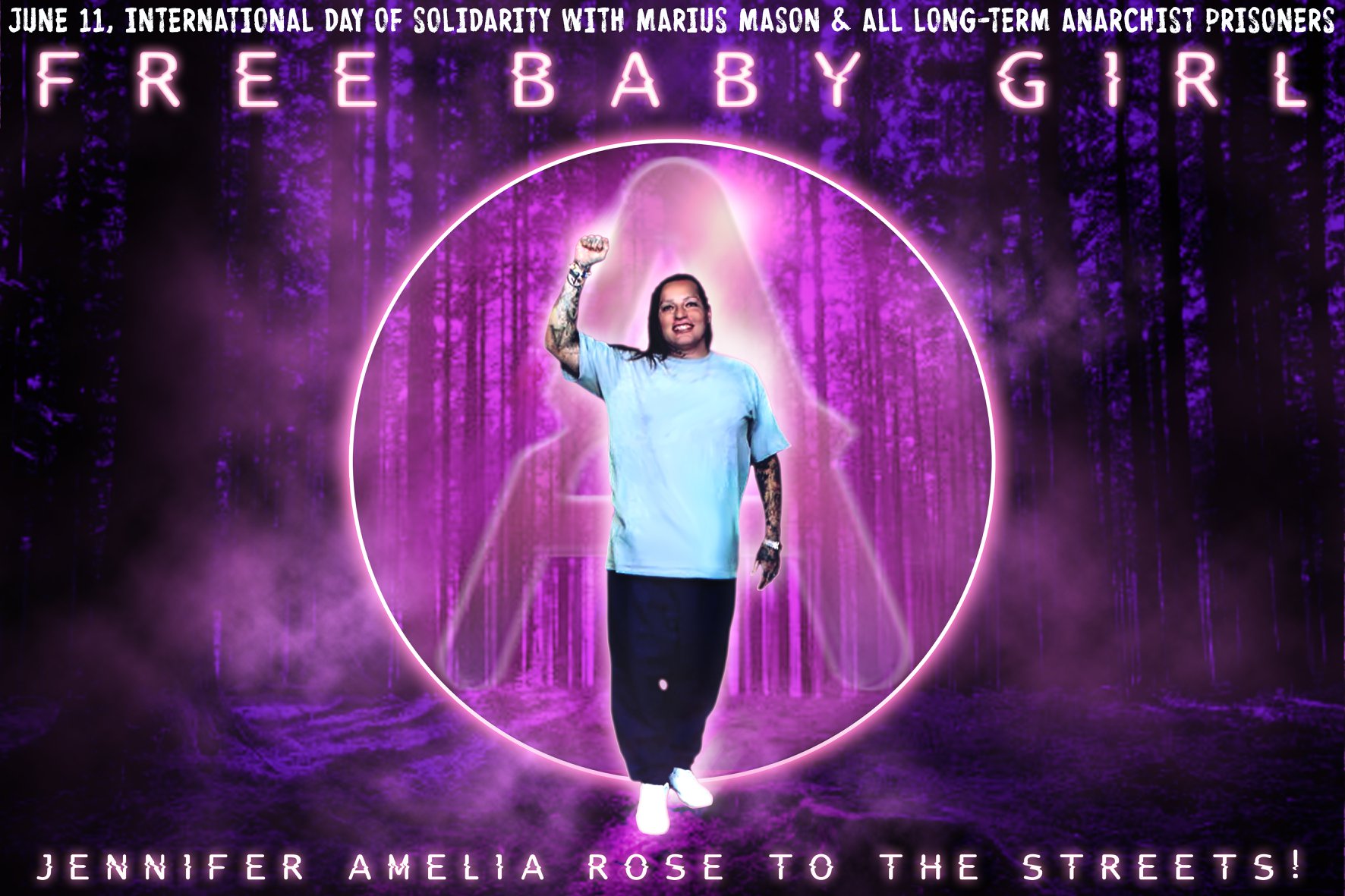 'Jennifer Gann [now Rose] is a political prisoner/prisoner of war held in California State Prison since 1990. Originally sentenced to seven years for an armed robbery when she was age 21, Jennifer became politicised as a jailhouse lawyer and prison abolitionist during the 1991 Folsom Prison Food Strike, and as a result was targeted by the California Department of Corrections prison officials' illegal brutality and torture. Jennifer spent more than a decade in solitary confinement at Folsom and Pelican Bay SHU where she engaged in self-defense and resistance actions, sabotaging/breaking prison cell windows and attacking the pigs. Jennifer was subsequently given multiple 25 year to life sentences for "non-serious" felonies after a trial where she was denied benefit of counsel and defence witnesses.
Jennifer is 48 years old and has continued to experience misogynist/transphobic violence by prison guards and inmates for the past several years, including a 2015 prison riot at Kern Valley State Prison between anti-racist Black and Queer prisoners against homophobic gang members and a 2016 police brutality incident where she was severely beaten and hospitalised by four male correctional officers.
Jennifer has earned 22 college credits at San Bernardino Valley College and Coastline Community College toward an Associate in Arts degree. She has worked in vocational welding class, as a recreation aide in the Enhanced Outpatient Program (EOP), and as a Transgender Coordinator for the Inmate Advisory Council (IAC). Jenny also led a Siddha Yoga class in 2015, and received certificate of completion for therapy groups in Cultural Change and Getting Out by Going In (GOGI). Because of her age, educational achievements and decades in prison, she falls into the US Justice Department's category of the extremely low recidivism rate of roughly 1%. Not only does she not pose a risk to society, Jennifer plans to volunteer work at the TGI Justice Project helping others in her community.
30 years is ENOUGH!!! Jennifer went to prison as a troubled young person, now she is a student, worker and activist. It's time to bring her home to her mother, sister, family, friends and community.
Personal correspondence and support letters are welcome. Please visit the Anarchist Black Cross websites and www.junell.org for the latest news on Jennifer and other anarchist political prisoners and POW. Also check out www.jenichony.org for news on many other political prisoners/POW.
FREE ALL US HELD POLITICAL PRISONERS AND POWS!'
Visit Jennifer's support site at https://babygirlgann.noblogs.org
Jennifer Gann E23852
Salinas Valley State Prison
PO Box 1050
Soledad, CA 93960
Read more from Jennifer on her blog: https://betweenthebars.org/blogs/490/jennifer-amelia-rose
June 11 blog: https://june11.noblogs.org/
PDF poster download: Free Baby Girl