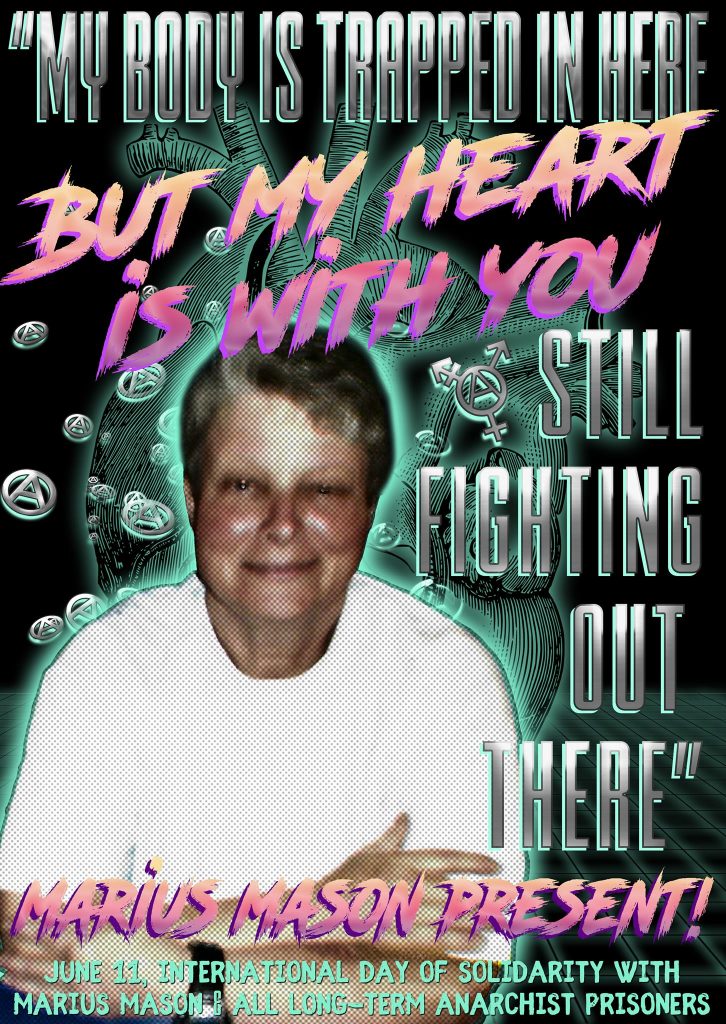 Marius Mason present!
Marius Mason is a trans man & an anarchist, environmental, and animal rights prisoner. In March 2008, he was arrested by federal authorities for charges related to two acts of property destruction that occurred in 1999 and 2000 – damaging an office connected to GMO (Genetically Modified Organism) research, and destroying a piece of logging equipment. No one was injured in either act. He faced a life sentence before accepting a plea bargain in September 2008.
Mason was sentenced on February 5, 2009 in federal court in Lansing, Michigan. He received almost 22 years – the longest sentence of any Green Scare prisoner. An appeal for a reduction in his sentence was denied in 2010.
The Green Scare is the name given to the arrests of animal rights and environmental activists who have been charged with acts of economic sabotage. Federal authorities have sought outrageous sentences (often life in prison) and have publicly and legally labeled the activists as "terrorists" – despite the fact that no one has been killed or injured in any of the acts.
Support Marius Mason blog: https://supportmariusmason.org/
June 11, International Day of Solidarity with Marius Mason & all long-term Anarchist Prisoners
https://june11.noblogs.org/
PDF poster download: Free Marius Mason