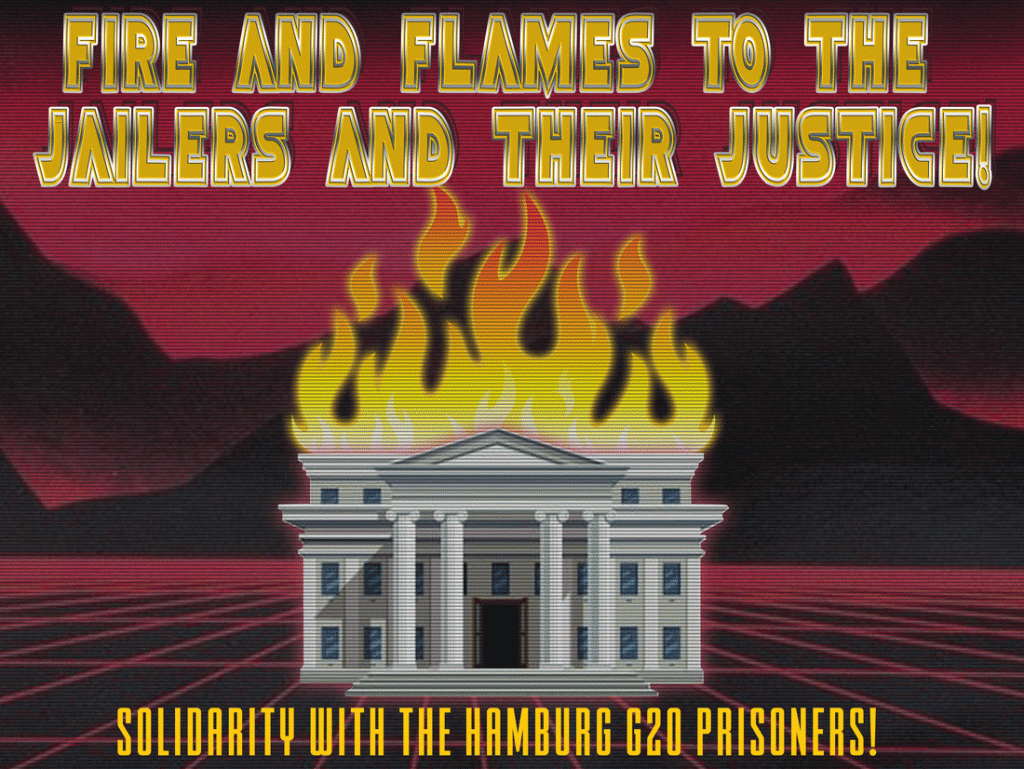 Berlin, Germany: In the Name of the Blazing Fire – Solidarity with the Hamburg G20 Prisoners!
Responsibility claim for the arson attack against the Courthouse in Wedding:
Europe-wide raids and house-searches. Arrests and extraditions. Informers and denunciations. The joyous chaos of the summit days and the confirmation of the loss of control forces the State to react. The reactions are noticeably more hostile than they have been for many years. Direct attacks against us and our structures are the reply of the rulers. The intensification of the persecution, the will to punish and the depoliticization of our ideas and actions are promoted.
What is forgotten within this logic is that we are united by political fragments like small parts of a puzzle – be it events, trains of thought that are happening in other cities or suddenly appearing in texts – and also by the reduction of the accomplices that are to be removed from the common table. We don't have to know the people who are on the streets with us. Through our sometimes unspoken ideas, we feel connected to each other and by meeting together in the streets, we act together, so that these ideas are not just dreamed of in a vacuum.
The enemy's current attempts to condemn the few who have resisted the many cannot be left unanswered by our side.
On July 7th, 2017, a few hundred of us succeeded in what we had been propagating and hoping for in a multitude of scattered cells: to launch an offensive and uncompromising rejection of the spectacle of politics and to reject the staging of a dull social peace on the morning of the G20 summit in Hamburg. Even if the judiciary is trying to drag individuals who are allegedly responsible before their courts to try and close the Elbchausee chapter, for us this moment remains a sting, the aftermath of which will be felt right up until the next riot.
We would like to believe that courthouses catch fire on their own, but it wasn't so in this case…
On 26.12.18, we poured fifteen liters of flammable liquid combined with styrofoam into the basement where files were stored and set it on fire.
We hope that the billows of smoke will send a little courage to Hamburg.
You hit us, but you didn't hit us all.
Fire and flames to the jailers and their justice!
https://mpalothia.net/berlin-germany-in-the-name-of-the-blazing-fire-solidarity-with-the-hamburg-g20-prisoners/