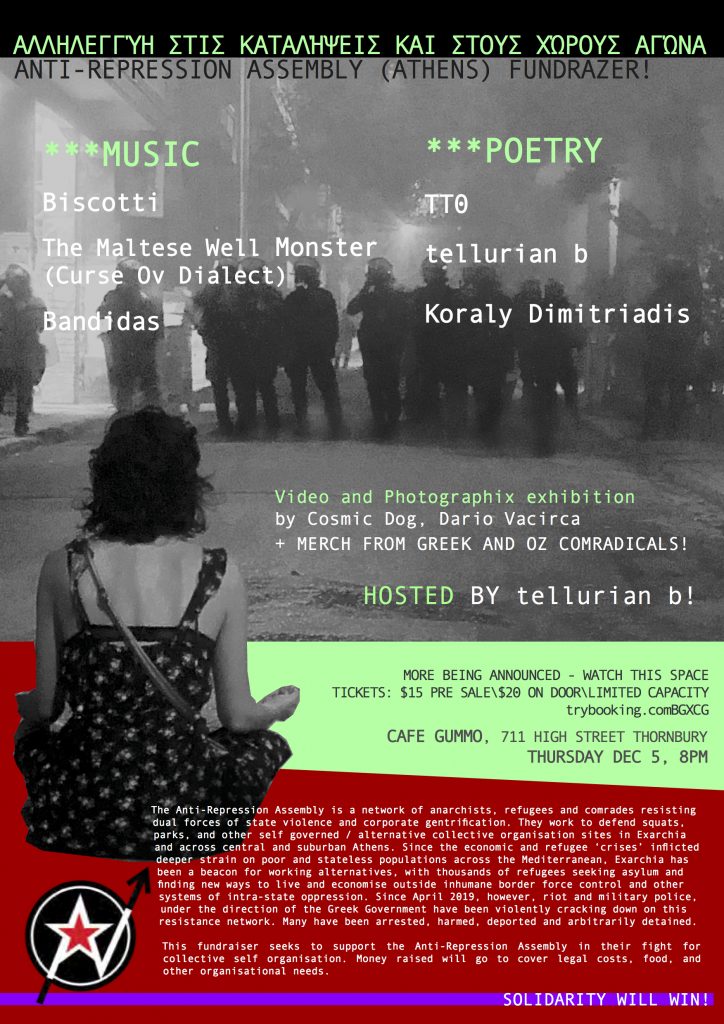 This Thursday 5th December at Cafe Gummo! Fundraiser for the Anti-Repression Assembly (Athens). PRQW merch will be available to purchase on the night, all proceeds going to the Anti-Repression Assembly.
Bookings: https://www.trybooking.com/BGXCG
Facebook event page: https://www.facebook.com/events/493164034617610/
The Anti-Repression Assembly is a network of anarchists, refugees and comrades resisting dual forces of state violence and corporate gentrification. They work to defend squats, parks, and other self governed / alternative collective organisation sites in Exarchia and across central and suburban Athens. Since the economic and refugee 'crises' inflicted deeper strain on poor and stateless populations across the Mediterranean, Exarchia has been a beacon for working alternatives, with thousands of refugees seeking asylum and finding new ways to live and economise outside inhumane border force control and other systems of intra-state oppression. Since April 2019, however, riot and military police, under the direction of the Greek Government have been violently cracking down on this resistance network. Many have been arrested, harmed, deported and arbitrarily detained.

This fundraiser seeks to support the Anti-Repression Assembly in their fight for collective self-organisation. Money raised will go to cover legal costs, food, and other organisational needs.